Most "in classroom" oil painting classes are being offered with a virtual option should you feel uncomfortable participating here on the First Arnold campus.
The virtual classes will meet on Zoom. You will need to register for the class shown below that you are interested in attending. The class fee shown includes the number of sessions shown, the pattern, photo and directions. The appropriate canvas and some of the oil paint colors are available for purchase through Trina to save you having to go out to the store.
You will need to have Zoom downloaded on your computer. Zoom is free to the students. Download at zoom.com/signup. You will be able to see the instructor, her painting and the other students attending this class.


Three Day Oil Painting Classes
In these classes you will bring the supplies you need for the current painting and leave them set up in the art room for the three days. By the end of three full days you will have a large painting you'll proudly show others.
The classes meet on Thursday, Friday and Saturday; 8:30 AM – 4:30 PM. The cost for these classes is $100. The instructor will be painting along with you and you can see her strokes on big screens at the front of the room. Due to the size of the canvases, seating is limited for these 3 day classes. The upcoming class information will be posted on the website as early as possible to allow time for student planning purposes.
The next 3 day class is shown below: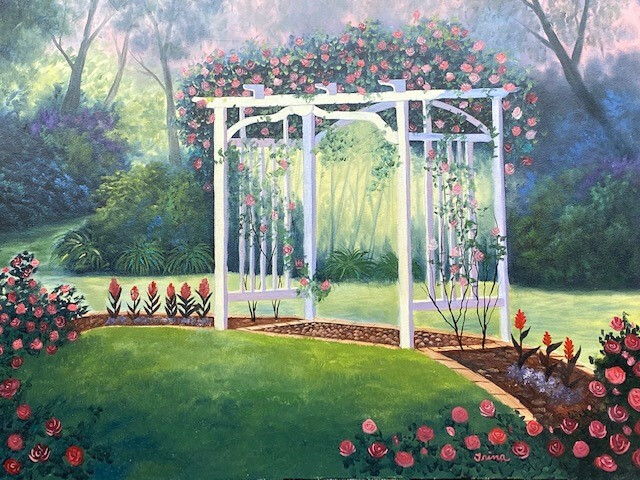 The Rose Arbor Oil Painting Class
Trina Stephens Instructor
August 26, 27 & 28, 2021
8:30 AM – 4:30 PM
Cost $100 plus supplies
Canvas 24" x 30"